Here is the article from shotgunlife.com:
It was one of Montana's best-kept secrets nestled away in the hill country along the Madison River. The ranch opened to the public back in 2007, but it didn't hold its grand opening until early 2008 when all the finishing touches were completed. The ranch is a 5000 acre deeded property with about an additional 2000 acres in leased land. Some of the land, only about 1,500 acres, is farmed but the majority of it is in a natural state for wildlife.
There is catch-and-release fishing on the ranch but you also have the Madison River only a few minutes away. There is upland bird hunting with pheasant, chucker and all the native huns and sharp-tail grouse available. They also have deer and elk hunting available on a limited basis. There are many others things to do including hiking, horseback riding, wildlife watching and wildlife photography. It's not unusual to see herds of several hundred deer or elk on the ranch. In winter you can snowshoe or cross country ski. When you get into the high country you can see the four mountain ranges that surround the ranch area. It's a beautiful area where you can truly relax and unwind.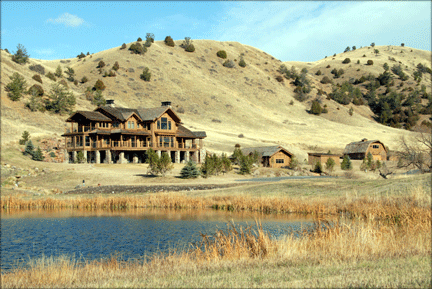 The Grey Cliff's Ranch lodge.
The majority of the people that come here are the residents of Bozeman, Montana area who want to get away from it all and relax in an Idyllic atmosphere. I always thought if you lived in Bozeman you already got away from it all. But you could also find a couple from Atlanta or Zurich, Switzerland enjoying the outstanding atmosphere of the ranch and the lodge. This is a really unique ranch with a totally different outlook about it being a place to stay. It can be a bed and breakfast, or it can be a hunting lodge, or a fishing lodge or a dude ranch. It can be anything you want it to be. And it can be all yours. They aren't trying to keep all the rooms full all the time, just the opposite. It's what they call low impact lodging. They want you to have a really unique experience while you are there for whatever reason. You can be by yourself or just a couple. The lodge will hold about eight to twelve people depending on the mix. And it can be all yours for a day, a week or a month, it's up to you.
The lodge is really a work of art, from the timber and glass exterior to the hard wood floors, marble counters, luxurious furniture and game heads from around the world adorning the walls. It reflects the personality of its owners and is one of the finer places I've ever had the pleasure to stay at.
You can pick one of their guest packages or design your own. Instead of the typical B&B package which includes your breakfast, you could do your owning cooking of dinner in their state-of-the-art kitchen or have their gourmet chef come in and cook your dinner right before you every evening. I don't think you'll ever find another place like this where they consider your experience as a greater value than having all the rooms full.
My first experience there after it just opened in 2007 was a real surprise. I came up from Idaho to do some bird hunting and met several hunters from Bozeman who I hunted with and had a great time. They were there for the day just to bird hunt while I was going to be spending several days there doing different things in addition to bird hunting.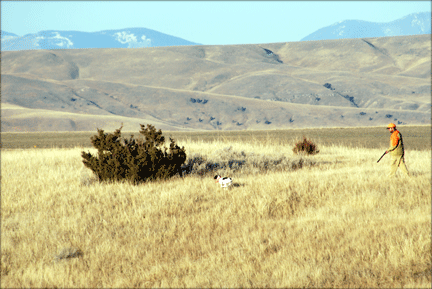 Spectacular vistas while bird hunting at Grey Cliffs Ranch.
We had a fun-filled day with some great bird hunting. We also had some good laughs about the birds we missed. We had a pheasant that was hit hard, but not dead and all four of us were looking for it very intensely as were the two dogs. Something caught my attention and I looked up at what I thought was a large flock of song birds, they didn't look that large. Someone else also saw them and didn't think anything about them as well. When the birds were right in front and above us, we realized it was a huge covey of huns. All the guns started to move and there was a lot of gunfire at the going-away birds, but not a bird dropped from the sky. We all looked at each other somewhat dumbfounded and burst out laughing. It took awhile to get over what had just happened. We did finally find the one we were looking for. We all ended up with a good mix of birds. Each one of us had either three or four birds.
The next time I was at the ranch was early in January of 2010. We just had over a foot of snow in Idaho Falls and a few days of single digit temperatures and when I got up to around Ennis, Montana, the temperature was 34 degrees, the skies were clear and the roads were clear and dry. I was expecting a foot of snow or more at the ranch and the ground was basically clear and dry. After a quick, small lunch, Chris, the ranch manager, and I headed out to one of the hunting areas with his dog, Katie. In the time since I was here last, Katie had matured into a first-class hunting dog.
We headed out to one of the areas that had very deep cover for the birds. After some walking, Katie went on point as Chris and I walked a little closer. The cock finally couldn't take it any longer and tried to make his escape while Chris and I started to mount our guns. Chris got the first shot off and hit the bird but it didn't go down and when the bird got clear of Chris I took my shot and hit the bird as well but it still kept going. We saw where it landed and backtracked to where the bird was and Katie quickly got the birds scent and went on point.
When the bird took off it looked like it was just hanging there and when I shot the bird it took a couple of somersaults in the air before it hit the ground for the last time.
During the rest of the afternoon hunt I got three more birds, but one got away. It was hit hard but managed to maintain some gliding flight for awhile. We went to look for it and could not find it after seeing where it landed and searching for some fifteen minutes. After we started back to the truck Katie picked up a scent and took off on a diagonal run while Chris and I stayed on track to the truck. When Katie got to the base of the hill we saw her pick something up and then drop it and then came running back to us. Chris and I both thought the same thing. The bird we were just looking for didn't go into the heavy cover where it landed; it doubled back to the hill close to where I shot it and died there. Thanks to Katie, I ended up with the four birds I shot.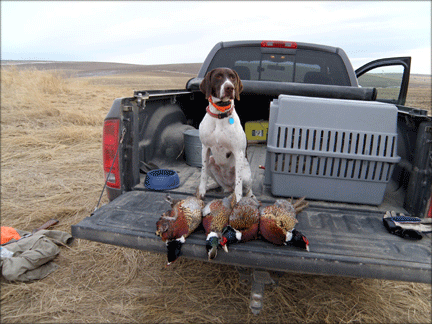 Katie with the four birds she retrieved on our hunt.
Being that I was the only guest at the ranch, I decided to soak up some of the ambience of the lodge and get some writing done. The chef was coming in that evening to cook dinner for Chris and I and I knew it was going to be a grand and memorable dinner. Chris himself is an excellent chef, so when "the chef" comes in you know it's going to be even more impressive.
I was not disappointed. Tiffany started us off with a delicious squash, carrot and potato soup that was out of this world. Our salad was light and very tasty with some citrus that was a delight. The entrée was pheasant with a red wine and fig reduction glaze and polenta, and was without a doubt the very best pheasant I ever had; Chris agreed. And I have a few good recipes for pheasant myself. The dessert was as exceptional. It was a roasted pear sorbet which I have never had before and will never forget it was so delicious.
The following day Chris and I went out to shoot some clays.  They have five automatic Promatic traps set up in some interesting terrain.  They have a formal shooting station for each trap, but Chris and I tried to make it more interesting and fun. We also shot between two stations so we could shoot report and true pairs off of two stations. On stations four and five we had the most fun. Standing 10 yards above station four, which was a fast left-to right quartering bird that you couldn't dally on. Station five was a high incomer arching right to left that was always in transition. Four was the harder bird to hit so we tried report pairs to start and we both accomplished getting the pair. Then we went for true pairs and we both accomplished that after a few misses.  Then we got ridiculous. We shot them in reverse. There were a lot of misses but we were able to get a pair and Chris's second bird, the one quartering away looked like it was in China, and he still got it. We sure hooted and hollered and high fived on that one.
Grey Cliffs Ranch is a great experience in itself, but when you add the outstanding food served there by either Chris or Tiffany it really becomes a truly grand and memorable event. To book your fun experience or adventure call 406-285-6512 or go to: www.greycliffsranch.com