The State of Montana is a capacious place where the wild still roam, the rivers flow unabated, and the hills roll into the horizon.  Montana is one of the last places where you can experience nature as it was intended.  I recently had the pleasure of staying at the Grey Cliffs Ranch, which epitomizes the Montana experience if you ask me.  The Ranch is flanked by the Madison River and encompasses more than 5000 acres…it's located just thirty minutes west of Bozeman in the Madison Valley.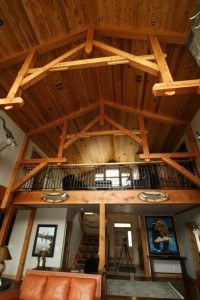 Prior to my arrival I had been visiting a very good friend of mine and his family in Bozeman, so the drive to Grey Cliffs Ranch was a quick one.  As I departed the paved highway and began traveling down a dirt road along the Madison River, I wasn't sure what to expect.  After about five miles I came upon a secure gated entrance—after entering the code I was provided, I continued down the road for another mile or so where I came upon a second secure gate.  Just past the gate entrance as I came around a bend in the road, I was greeted with the sight of a splendid lodge built into an acclivitous hill.  There was a pond in front with a small creek feeding it…as I passed by, I saw a fish jump and my excitement to try a hand at some fly fishing intensified.  As I made my way up the driveway I was greeted by Chris (the ranch manager) who proceeded to show me around the palatial estate.
The lodge at Grey Cliffs Ranch is over 8000 square feet with an abundance of deck and patio space. The exposed post beam construction and open floor plan provides soaring ceilings and spectacular views from the main floor.  No expense was spared in the construction or furnishing of this lodge.  There are five distinctly furnished guest rooms with the entire upper floor dedicated to the "owner's quarters."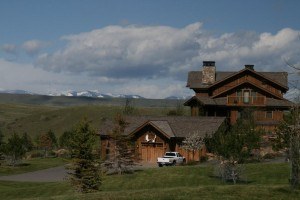 After I got settled, I went for a stroll around the grounds of the lodge, finding myself near the edge of the pond—which is stocked with trout.  Chris told me about a storage unit with food pellets for the fish and encouraged me to feed them.  At first I dropped just a few pellets in at a time and observed the fish out-swim each other in an attempt to gobble up the sustenance.  It was remarkable to see how fast the trout can maneuver.  Just to make things interesting, I waited for a bit…then threw a handful of pellets into the pond and watched as the trout swarmed to the surface like piranha devouring their prey.  It was quite a sight to witness.  It wouldn't be long, I thought, until I'd get the chance to catch one of these trophy trout with a fake fly.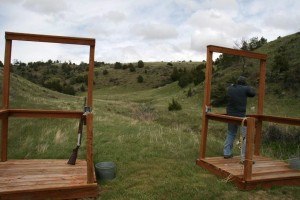 There are so many fun and exciting things to do at the Ranch…depending on the time of year you visit; you might opt for some upland bird hunting for pheasant or chukar partridge. Or perhaps try your hand at some trap shooting on their wonderful range (actually I think you can do both trap and skeet, but I'm not 100% sure of the difference between the two). There are a number of guided fishing options to choose from…you can hit one of two stocked ponds on the property, or head over to the Madison, Gallatin, Yellowstone or Jefferson rivers.  There is also big game hunting, long-range shooting and an abundance of places to go for an afternoon hike.  If you just want to relax, there's no better place…the downstairs common area is a wonderful place for watching a movie on the big screen, or playing a board game.  Upstairs you can nestle up to the massive fireplace and read a book, or grab a lounge chair on the expansive deck and take in the awe-inspiring views while listening to the wildlife.
The Grey Cliffs Ranch offers a number of accommodation choices:
Guided: Includes full/half day of upland bird hunting, fly-fishing and/or sporting clays.  Hearty breakfast, packed lunch and a gourmet dinner prepared by a fine local chef.  Transportation to/from the airport can also be arranged.
Non-Guided: Which excludes the activities listed above, but can include all three meals or just the full breakfast.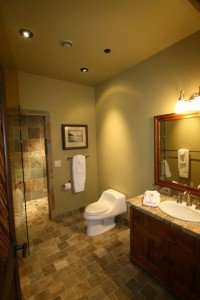 During my last full day at the ranch my buddy Sean came out from Bozeman to spend the day with me.  I started off giving him a tour of the place, of which he was thoroughly impressed.  He mentioned that the lodge would make an outstanding locale for a family reunion, and I had to agree.  Sean brought his own fishing equipment so we headed down to the nearby pond to see who could catch the bigger fish (we're just a little competitive).   Sean has extensively more experience than I do…as a matter of fact, I'll never forget the time we were fishing on a lake in Arizona when he saw me casting, he said, "you're doing that all wrong…here, give me that thing."  He proceeded to take my pole and on his very first cast caught a fish.  He then said, "see, that's how you do it!"  Funny thing was, that was our only fish of the day.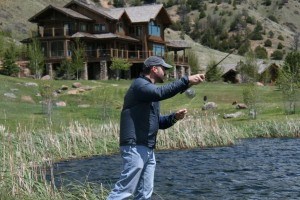 It only took Sean a couple of casts before he reeled in his first catch.  I was on the other side of the lake and wasn't quite as successful.   Chris (the ranch manager) and Sean couldn't help but notice my ineptitude so they both came over to try and give me some instruction.  Sure enough, soon thereafter I caught a doozy!  It was a wonderful catch.  As the Rainbow Trout bit my line, I pulled back to make sure I had him hooked good.  He then leaped out of the water, must have been three feet (okay, maybe it was just a few inches…but this is my fish story).   I reeled him in a little and then he'd fight back and take a few feet of line.  It was a battle back and forth, until I finally tuckered the little guy out and we were able to net him and unhook him.  Before I released the trout back into the pond I was holding the little guy while Sean took some video, during which time I asked Chris a few rhetorical questions, "whatta ya think…22"-24"?"  He replied with a smile "more like 18".  Check out the video below and you can see for yourself that this wasn't some sort of "fish tale."
After fishing for a spell, Chris took us over to the shooting range where we tried our hand at some trap shooting.  I've had some experience sporting clays, so I was pretty confident I was going to be able to redeem myself and outshine Sean.  Chris brought a couple different shotguns for us to try, an 18 and a 12 gauge…both were very nice weapons and one was a style I'd never shot before.  I let Sean go first and it only took him a couple shots to zero-in on the clay pigeons.  When it was my turn to take aim, I was not quite as successful…I'm used to shooting clays high in the air, not low to the ground.  Chris started launching clays from different directions which really made hitting the targets even more difficult to hit.  The wind was really picking up so we decided to call it an afternoon.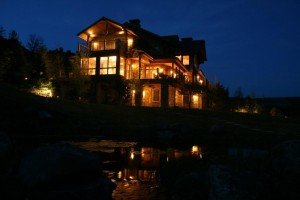 Sean and I headed back to the lodge where I baited him into another activity that I felt confident I could beat him…chess.  The lower common area of the lodge has a wonderful game table that serves multiple purposes…when you flip the table it exposes a chess board.   The first game we played…I dominated and won.  The second game, well, he gave me a bit of a run, but in the end my patience paid off with another exemplary victory.  After chess we each both enjoyed a cold beer while discussing the virtues of life.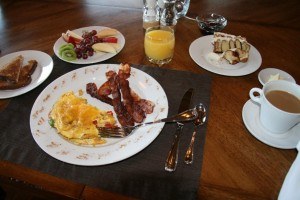 My visit to the Grey Cliffs Ranch concluded with yet another outstanding breakfast.  Before I packed up to leave I took the remainder of my coffee out on the deck and took one last lingering look at the beautiful landscape that surrounds the ranch.
If you're looking for an amazing get-away vacation, consider the Grey Cliffs Ranch, Chris is the consummate host and will make sure you have an amazing time with lasting memories.
Click the following link to see more pictures of Grey Cliffs Ranch.  If you've ever been to the Ranch, please let my readers and me know what you thought.  If you enjoyed reading this post, please hit the "like" button below.